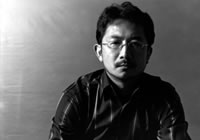 Artistic Director of Yamanote Jijosha. Councilor of Japan Performing Arts Foundation.
Born in Tokyo, Masahiro Yasuda was a graduate of Waseda University. He founded Yamanote Jijosha, in 1984 at university.

His direction is highly appreciated with the acting and directing style "Yojo-han" designed the modern play. He also directed many commissioned works and served as a workshop lecturer and a competition's judge.
As assigned directors of regional and other art promotion foundations and councils, he staged the productions such as: Romeo and Juliet(1995, Mito-City Art Promotion Foundation),Twelfth Night (MAPF, 1996), Fary Tale (written by Oriza Hirata, Saitama Prefecture Art Promotion Foundation, 1997), The Rise and Fall of the Garden of Zeus(written by Kyoji Kobayashi, BeSeTo Theatre Festival,1998), A Midsummer Night's Dream (Nagaoka-City Art and Culture Promotion Foundation, 1999), The Taming of the Shrew (NACPF, 2000), An Evening of Chekhov (NACPF, 2001), The Blue Bird (Yamanashi Prefecture Theatre College and Region Creation Foundation,2001), Romeo and Juliet (Theatre Project Kagawa and Kagawa Prefecture, 2003), Hamlet (TPK and Kagawa Prefecture, 2004), Heisei Chikamatsu Hangonko, Oedipus @Tokyo (Toho Gakuen College of Drama and Music, 2001 and 2004), and Run Meros (Shizuoka Performing Arts Center, 2009).

Yasuda served as Festival Director of Toga Spring Art Festival (1998 and 2000) and judged many theatre competitions such as National Competition of High School Theatre Clubs, Guardian Garden Theatre Festival, and Directors Competition at Toga. He serves now a full-time instructor at the Bunka Gakuin Academy specialist program art department actor course, a instructor at Obirin University, Niigata University, Gakushuin Women's College, Toho Gakuen College of Drama and Music, Toho Gakuen School of Music, ENBU seminar and Osaka city developing creative human resources workshop 2009.
He wrote regularly a column titled "How to make a good play" for Engeki Book for a long time. He also wrote many articles in Teatro, Asahi Weekly, Tarzan, Culture Pocket and so on.
His book, Happy Body ("Happy na Karada") was published by Yosensha in 2003.